Online Safety Advice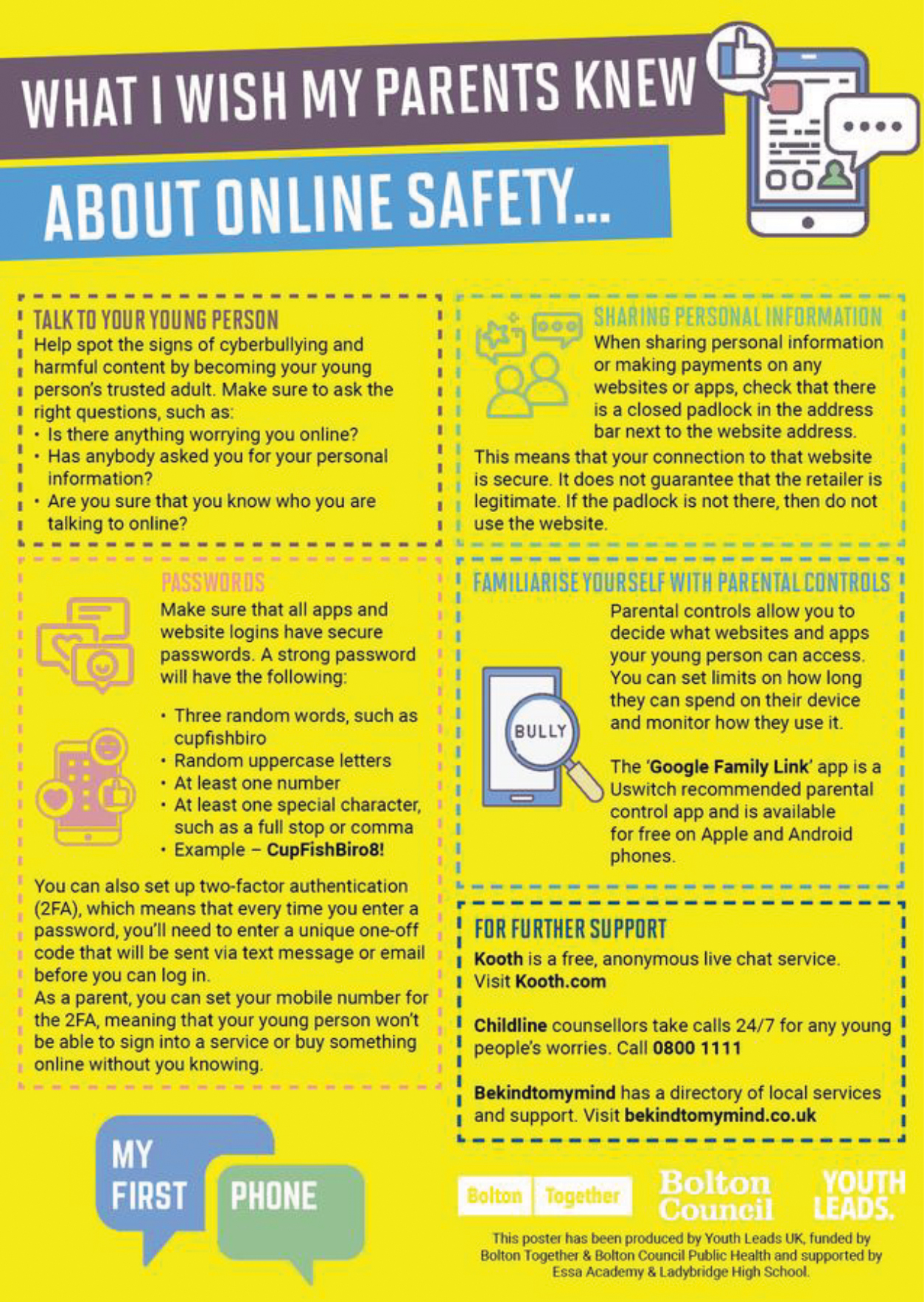 Online Safety
The online world is a necessity for many children in accessing school work and it delivers huge benefits. However, there is always a risk online activity can leave children vulnerable. We have compiled the following support and guidance for parents and carers to guide loved ones when using online tools and support the digital life of the family.
Social Media Privacy Settings
There are age restrictions on the main social media websites. You need to make sure that your child stays away from these outlets until they have reached the age of consent AND until you are comfortable with him or her having an account. Did you know that if a child lies about being 13 years of age when they are in fact only 10, when they reach 15 years of age their account status will state that they are 18? This will mean when turning 15 the content filtering will be removed and they could be subject to inappropriate content. Some social media security settings are automatically lowered (Before the age of 18 there are friend-request restrictions to protect children)
13 years old: Facebook, Snapchat, Instagram, Tik Tok
16 years old: WhatsApp
If your children have downloaded common social media applications we recommend reviewing the privacy settings with your child on a regular basis. Mr Atkinson has created a series of videos to guide you through the process of checking these privacy settings on the most common applications. These can be found below:
Tik Tok Privacy Settings
Snapchat Video
Instagram Video
Controlling Home Wi-Fi
The government has encouraged Internet Service Providers to support parents to easily filter content to put you in control of what your child can see online. You can switch on family friendly filters to help prevent age inappropriate content being accessed on devices in your home and the UK Safer Internet Centre provides guidance on how to do this for different internet service providers:
https://www.saferinternet.org.uk/advice-centre/parents-and-carers/parental-controls-offered-your-home-internet-provider
Advice for the Management of Devices
Create Ground Rules
If your children are old enough to be using the computer on their own, they are old enough to understand that there are rules they need to abide by. Breaking them should not have a lesser consequence than if they broke a rule in the offline world. The best way for families to agree on ground rules is to create a contract that all parties must sign.
Get To Know Who Your Child's 'Online Friends' Are
One of the contract rules should be that you have full access to your child's social media 'friends' and/or 'contacts' and that you can take a look whenever you wish.
Keep the devices in a Central Location
It's much easier to keep tabs on any online activity when the computer/tablet is located in a high-traffic zone than if your child is using a computer in the privacy of her own room. Place the computer/tablet in a central location like your kitchen or family room so that everything is out in the open.
Monitor the Pictures Your Child Posts Online
In an ideal world, your child would never post a photo of him/herself online, but that might not be entirely realistic. If he/she wants to share photos with her friends via email or a social media outlet, be sure you know exactly which pictures are being posted. Make sure the content of the photo is completely innocuous and that no identifiable locales in the background are noticeable. Your child should also NEVER post a picture of somebody else online unless they have asked permission to do so.
Be a Good Example of How to Use Social Media
If you are tweeting and updating your 'status' at a stop light and taking every opportunity to "just check something," you're setting a poor precedent for social media usage that your child will surely follow. Always remember to ask yourself if you're setting a good example and demonstrating proper technology etiquette as well.
Limit Device use
Just as you would limit use of a computer, TV or gaming system, you can do the same with a mobile phone. Set rules for the device, only allowing mobile phone usage at certain hours in the evening or after homework has been completed.
Teach Children about an Online Reputation – THINK BEFORE YOU POST
Many children don't seem to understand the permanence of the online world. Make sure to stress to your children what a digital footprint is and the impact inappropriate messages or images could have if a future college administrator or employer were to stumble upon them. Things posted online STAY online.
Talk to Children about Online Dangers
You may feel like you're scaring your children when talking to them about the dangers of being online, but it's better for them to be scared than to be unaware. Having an open line of communication is crucial the minute your children start using the Internet more independently.
Take control of your child's geolocation
Young people must be aware of who they are sharing their location with. If they are accessing a social networking site via a smartphone or mobile device, they might be disclosing their location without realising it. Location services can be turned on or off within the settings of a device.
What help is available if my child is being exploited online?
It is important to safeguard our loved ones from a range of online harms, whether that's child sexual exploitation, fraud, or extremist influences seeking to radicalise vulnerable people.
Online concerns can be reported directly to CEOP (Child Exploitation and Online Protection command)
https://www.ceop.police.uk/Safety-Centre/
If you are concerned that your child may be at risk of radicalisation, help is available through Prevent to make sure they get the support they need to move away from harmful influences. Contacting the authorities will not get the individual into trouble if a criminal act hasn't been committed. The local authority or police will discuss your concerns, suggest how they can best help and give you access to relevant support and advice.
https://www.gov.uk/report-terrorism
E-Safety Taught at Thornleigh
Within the Computer Science Curriculum students are taught an E-Safety unit of work at the start of every year, with a focus on highlighting key online dangers and dealing with online concerns.
Within the E-Safety unit of learning, Year 7 students are taught about:
-What personal data is and how to protect our online date.
-Online Friends and masquerading
-Privacy settings
-Digital Footprints and online reputation
-Reliability of information and data online (including phishing scams)
-How to report online concerns
-Cyber Bullying and its consequences
-Strong Passwords
Year 8 students are taught about:
Digital Footprints
Copyright and Creative Commons
Password Control
Cyber Security (including malware and online threats)
Social Engineering
Computer Misuse Act
All students take part in a yearly age-appropriate 'E-Safety week' in which students work within tutorial lessons to support them with a variety of different online concerns. This has included; online grooming and fake profiles, online reputations, sexting, online etiquette. Students are given the chance to check their social media privacy settings with trained experts.
Other useful websites:
As a parent, you can have a vital part to play in helping children stay safe online and we encourage you to have regular conversations with your children about online safety and their rights and responsibilities.
For detailed support with helping your child stay safe online and to initiate these conversations, we would encourage you to visit the following websites:
NSPCC website:
https://www.nspcc.org.uk/keeping-children-safe/online-safety/
Sexting
https://www.nspcc.org.uk/keeping-children-safe/online-safety/sexting-sending-nudes/
Reporting Abuse/Inappropriate Content:
General Internet Support and Guidance:
https://www.internetmatters.org/advice/11-13/