Library
School Library
Our main school Library supports reading for both pleasure and the curriculum for all KS3 and KS4 students.
The Library is open to students at both break and lunchtimes.
We run a number of events throughout the school year including reading-related challenges, quizzes, competitions and book fairs.
Students are also invited to apply to become Student Librarians to help support the day to day running and development of the Library.
ePlatform by Wheelers has arrived at Thornleigh!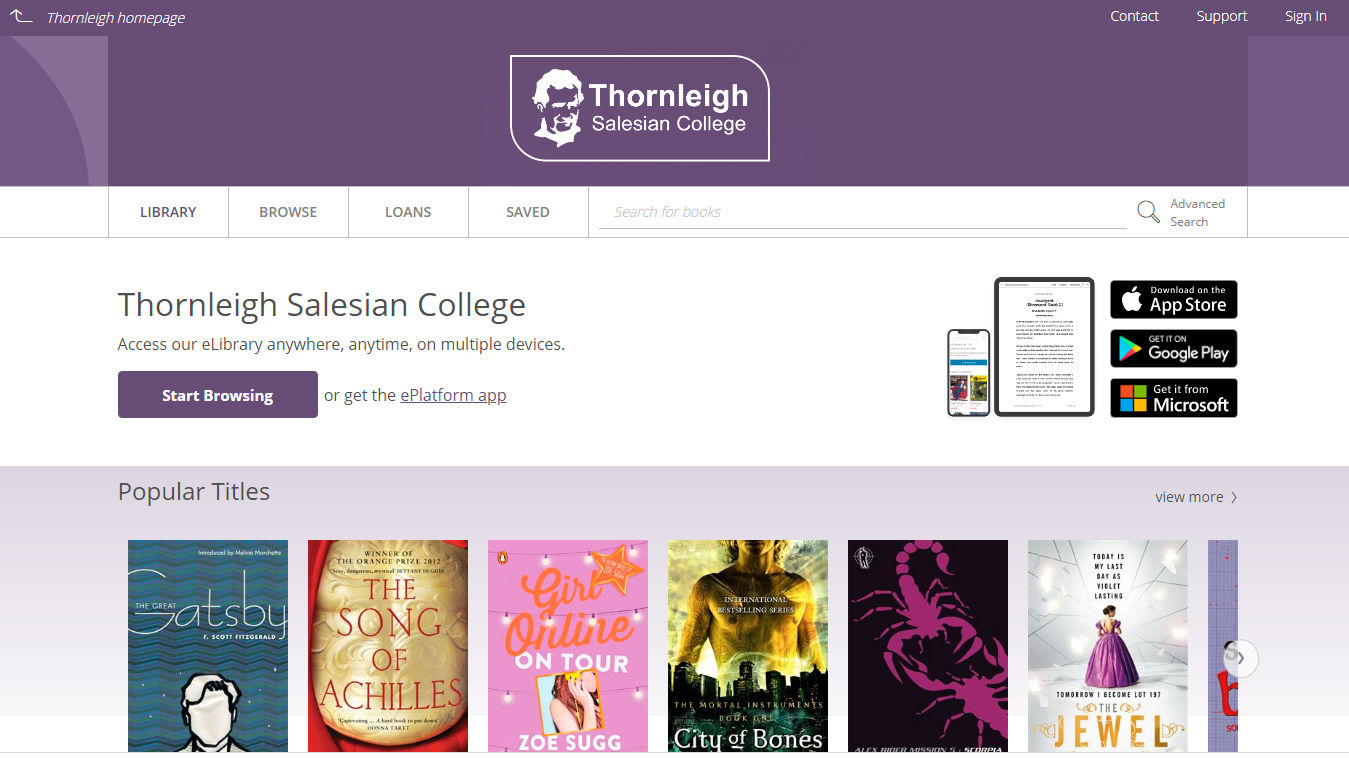 ePlatform is a library lending system designed to make the borrowing and reading of eBooks as well as the listening of Audiobooks simple and enjoyable.
Through ePlatform your son or daughter is able to browse for, borrow and read eBooks and Audiobooks anywhere, anytime, on multiple devices.
The website link is: ePlatform and your son/daughter can log on with their school username and password. Alternatively, they can download the ePlatform App.
Let's Read
Below you will find links to reading resources such as Lit2Go or 500 word stories which we would encourage you to explore. There are also reading lists for those of you who want some inspiration as to what book to pick up next.
If you prefer to listen to stories, you could sign up to AUDIBLE where you can access their audio library free for 30 days.
At the bottom of the page are resources on how your parents and carers can support you with your reading as well as some reading challenges you might like to set yourself!
We hope that the resources on this page give you the opportunity to read stories that help you explore new ideas and experiences and let your imagination run wild.
Happy reading!
Lit2GO
Lit2Go is a free online collection of stories and poetry available as audiobooks and PDF files. Browse hundreds of stories from Japanese and Scottish Fairy Tales to Sherlock Holmes and many of Shakespeare's plays too. Click on the link below to access free reading material immediately.
https://etc.usf.edu/lit2go/books
500 Word Stories
Follow the link below to Radio 2's 500 words collection. We particularly enjoyed ''Tyrannos-oral Hygiene'' by Mille Robinson, but there are so many fantastic tales to choose from. Reading for just ten minutes a day can improve your wellbeing, help you to relax and improve your own vocabularies. These stories have all been written by students aged 8-13. If any of the stories spark your own imaginations, make sure to let your teachers know!
https://www.bbc.co.uk/programmes/articles/KNWsKPrg7stQ54tTbcf6P7/500-words-the-stories
Reading Lists
Are you not sure what to read next? Click on the link below to find a world of inspiration!
Year 7
https://schoolreadinglist.co.uk/reading-lists-for-ks3-pupils/suggested-reading-list-for-year-7-pupils-ks2-age-11-12/
Year 8
https://schoolreadinglist.co.uk/reading-lists-for-ks3-pupils/suggested-reading-list-for-year-8-pupils-ks3-age-12-13/
Year 9
https://schoolreadinglist.co.uk/reading-lists-for-ks3-pupils/suggested-reading-list-for-year-9-pupils-ks3-age-13-14/https:/schoolreadinglist.co.uk/reading-lists-for-ks3-pupils/suggested-reading-list-for-year-9-pupils-ks3-age-13-14/
Year 10
https://schoolreadinglist.co.uk/reading-lists-for-ks4-school-pupils/suggested-reading-list-year-10-pupils-ks4-age-14-15/
Year 11
https://schoolreadinglist.co.uk/reading-lists-for-ks4-school-pupils/suggested-reading-list-year-11-pupils-ks4-age-15-16/
Year 12
https://schoolreadinglist.co.uk/secondary-ks3-ks4-reading-lists/sixth-form-reading-list-books/#year-12
Year 13
https://schoolreadinglist.co.uk/secondary-ks3-ks4-reading-lists/sixth-form-reading-list-books/#year-13