World Book Day 2020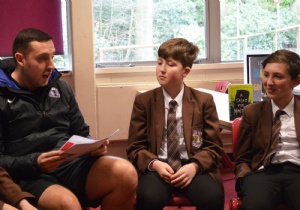 Today we started our World Book Day celebrations with storytime.
Students joined staff members Ms Sharples, Ms Hodgson and Mr Whitehead to listen to extracts from the teachers favourite books. The students then discussed what their favourite books are and what they are currently reading.
It was fantastic to see how enthusiastic the students were about reading and speaking about the books they buy - and to watch them giggle at Mr Whitehead as he read an extract from Winnie the Pooh, paying particular attention to his version of the accents of the characters!