Greater Manchester Cross Country Championships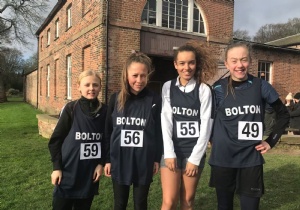 On a cold and extremely windy day at Heaton park on Saturday 1st February, cross country athletes from all 10 boroughs in Greater Manchester came together to compete in the County Cross Country Championships.
The top 20 runners from each age category at the Bolton Cross Country Championships qualified to represent Bolton at the event and Bolton were able to field strong and competitive teams in each race. The Bolton teams were successful on the day, with the most notable performances coming from the Inter Girls team (1st), Minor Boys team (2nd) and Minor Girls team (3rd).
Thornleigh were well represented at the event and our students contributed to the success of some of the Bolton teams. It was an absolute pleasure to be involved with the event and, as a school, we are extremely proud of the achievements of our students and look forward to seeing them at the event again in the future.