West End Professionals Come to Thornleigh!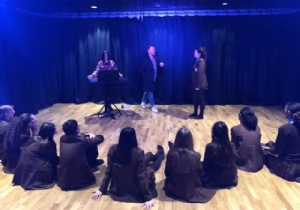 Performing Arts students were invited to a talk this morning delivered by West End professionals Helen Washington (Musical director of Les Miserables children's chorus) and Mark Hedges (Director of Phantom of The Opera).
They ran some practical workshops in the Drama Studio with students and participated in a question and answer session about life in musical theatre. At the end of the session, several students sang their solo pieces and Helen and Mark were clearly impressed with the talent here at Thornleigh!
Performing Arts teacher Mr Eccleshare said "This was a fantastic opportunity for our students to meet some industry professionals. It was very exciting for them to gain a clearer insight into what it takes to be successful in theatre and it was lovely to see them show off their amazing voices!"
Helen and Mark are running a musical theatre weekend that students can sign up for. Please see Mr Eccleshare for more details.