Mr Antonio's Promise to Become a Salesian Co-Operator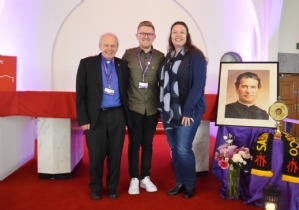 Another year another amazing celebration of founder, father and friend.
This year, alongside our usual St John Bosco Feast Day services in chapel, our school community represented by the Year 7's were honoured to be a part of Mr Antonio's promise as a Salesian co-operator.
The Salesian co-operators are dedicated men and women who have been inspired by the spirituality of Don Bosco, they take a promise to live their lives in the service of young people as good Christians and honest citizens. The Association of Salesian Co-operators is one of the three corner stones of the Salesian family, alongside the Salesians of Don Bosco (SDB) and the Daughters of Mary Help of Christians (FMA).