Year 8 Foreign Languages Talk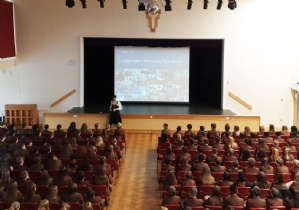 On Thursday 30th January, our Year 8s were visited by Sonja Bernhard from the University of Manchester, who delivered an inspiring talk on how studying foreign languages can unlock your future.
Our Year 8s gained a deeper appreciation for the role of languages in the modern world, learning that only 6% of the world's population are native speakers of English and that a staggering 75% of people speak no English at all. Sonja had the Year 8s thinking about the wide range of careers and opportunities that are available through the study of languages and even had them reading Swedish - det är spännande!