Year 12 Student Completes First Round of Chemistry Olympiad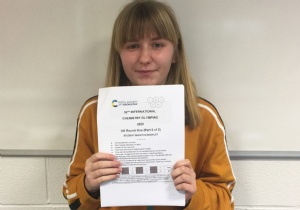 Congratulations to Paulina in Yr12 who has just completed the first round of the 2020 UK Chemistry Olympiad.
According to the Royal Society of Chemistry, this annual competition is "Designed to challenge and inspire, the UK Chemistry Olympiad is the leading chemistry competition for students in secondary education across the British Isles. This enriching experience is a unique opportunity for students to push themselves further and excel in the chemistry field."
The competition is made up of three stages that start with a written test and end with four students representing the UK at the prestigious International Chemistry Olympiad. The stages are incredibly challenging and Paulina has been able to develop and showcase some of the skills she'll need at university and beyond. An update will follow once Paulina's papers have been marked.