Ski Trip 2023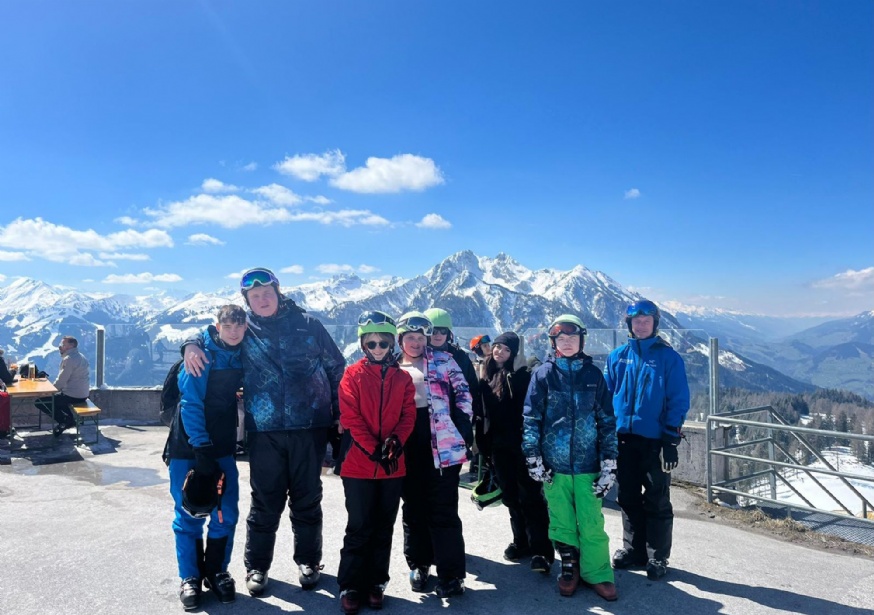 The Ski Trip this year was a great success with 49 students for year 10 and 11 travelling to Austria via coach.
Luckily we just missed the huge delays at Dover which allowed us to arrive at the beautiful village of Radstadt on time. After allocating rooms and having ski fit we enjoyed some great food and settled in for an early night in preparation for an early morning to start our skiing.
The students were woken each morning at 6am to give them time to wash, dress and have their breakfast before a short drive to the slopes. Beautiful views were taken in as we took the chair lift up the mountain to start the day's skiing at 9am.
Students were placed in one of five teaching groups which were then taught by experienced ski instructors. After 3 hours of tuition the students enjoyed restaurant food on the mountain before continuing with another 2 hours of skiing. At the end of the day the students returned back to the hotel to wash and then enjoy more food at the hotel.
During the week the students also participated in evening entertainment including a quiz, swimming, disco and bowling. Each of these events were very memorable with students and staff thoroughly enjoying the activities. A presentation by the ski instructors was also enjoyed by the students as they received certificates highlighting their level of skiing ability.
After a final day of skiing the students quickly showered, ate and loaded the coach for the journey home. After such an exhausting week it was great to finally relax and sleep during our night journey back to Calais. Again we missed all the delays at the crossing and soon returned back to England for the final leg of the journey.
Overall the ski trip was a huge success with students learning new skills, developing new friendships, building resilience, experiencing different cultures and food. Every student and member of staff came home with great stories of events of the week that they could share with family and friends. We are already planning for the next ski trip in 2025. We hope you can join us!