BOSCEP Bolton Migration Project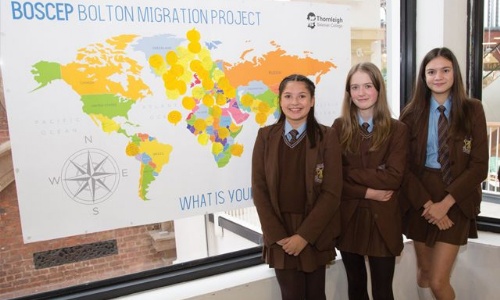 Over the past few weeks students in Year 9 have taken part in a project with all the other Catholic schools in Bolton called 'Destination Bolton'.
The aim of this has been to allow students to develop a greater understanding of migration, movement and settlement of people over time.
Every one of us has a migration story to tell, whether we have only ever moved a few miles or we have lived in several different places in our life time. Some children will have families who have lived in Bolton for generations, others may be new to the town. Some families may have settled here because of changes in employment, family, love or because they are seeking refuge. Others may be here because their great grandparents and beyond made Bolton their home. Our History teachers across all our Catholic schools want all our children to know their own unique story. How and why did our children make Bolton their home?
It was a real privilege to share some of our parents' stories at our Year 9 parents' evening too.
The project culminated in the first week of December with a display of all the stories in Bolton Market Place where our students spoke to members of the public about why they too had made Bolton their home.
In a society where often focus is on division and what makes us different to others, it has been an absolute pleasure to instead concentrate on what makes us the same – and why we all share a common identity. We are Bolton.