Rector Major Visits Thornleigh Salesian College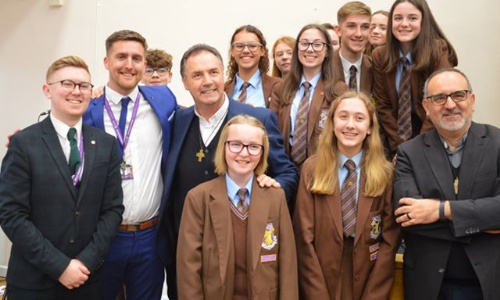 This week, the Salesians of Don Bosco have had our Rector Major visiting the province.
Fr Ángel Fernández Artime SDB, is the 10th Successor of Don Bosco and the leader of our Salesian Family.
Fr Ángel was born 21st August 1960 in Spain; he made his Final Profession as a Salesian of Don Bosco on 3rd September 1978, and made Final Vows on 17th June 1984, in Santiago de Compostela, and was ordained a priest on 4th July 1987, in Leon.
Fr Angel started his visit here at Thornleigh Salesian College, were he met with students and staff. This was also the perfect opportunity for us to rededicate our newly refurbished school chapel. During the rededication liturgy, put together by our Chaplaincy team, our students reaffirmed the importance of the Salesian Spirit in our school.
They spoke about Thornleigh being a home where they are made to feel safe, a school where they become skilled and confident, a church where they spend time reflecting on their journey and a playground where they have time to relax with their friends and teachers.
The choir and GCSE dance class performed pieces to show the Rector Major our diverse curriculum. The Rector Major commented on how 'Salesian' Thornleigh is, he told many students that Don Bosco would be very proud of them all.
We are honoured that Fr Angel, chose Thornleigh Salesian College as the place to start his official visit, and it was a blessing to welcome past pupils and members of our wider Salesian family back to our school.