Partnership Confirmation Programme 2022 – Deanery Parishes with Thornleigh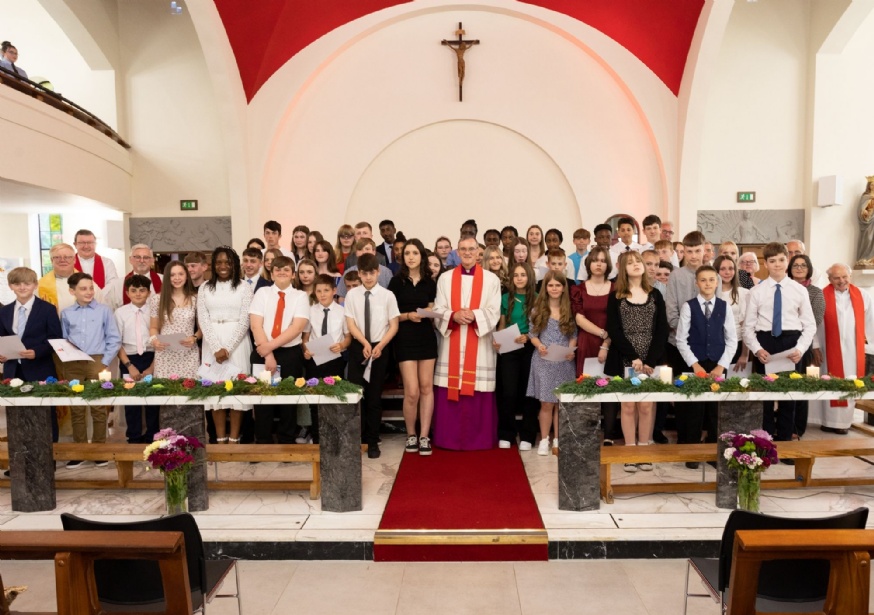 Bishop John confirmed 58 candidates from the St Joseph's Deanery Bolton at Thornleigh chapel on 23rd June 2022. Leading up to our confirmation day, we were introduced to the seven gifts of the holy spirit. This consisted of: wisdom, understanding, counsel, fortitude, knowledge, piety, and fear of the Lord. We were very fortunate to have the teachers' and catechists' time to guide us on our journey towards this special day.
Being confirmed means so much for so many students, as the Lord guides them through this new journey. As Bishop John was confirming us, he did the sign of the cross on our foreheads with Chrism oil saying these words, "be sealed with the gift of the holy spirit" and shared a sign of peace with us with a handshake.
During the service, candidates led readings and prayers and the choir sang hymns to glorify God and allow His spirit to descend upon us. Before we were actually confirmed the candidates were called by name up to the altar to listen to the homily of the Bishop. At the end of the service all of the confirmed were brought up to receive gifts from the priest's and take a group photo.
After the service, the confirmed and their families were invited to the main hall for a celebratory get together to speak to our families and friends and exchange our excitement about the celebration that took place. It was an awesome experience.
Lois D and Naomi T – Confirmation Group 2022