Salesian Games 2022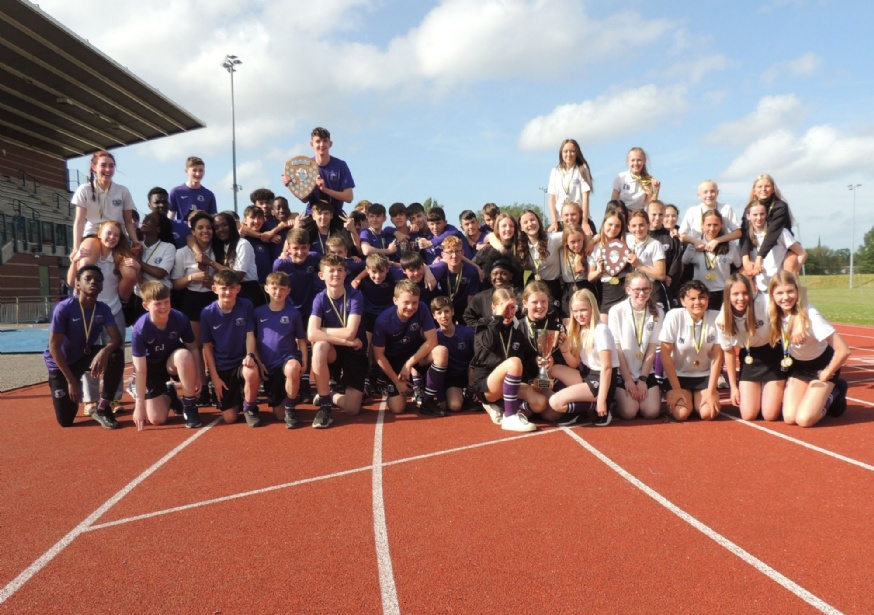 On Friday 13th May, our athletics team travelled to The Salesian Games, this year hosted by Savio Salesian College at Wavertree Athletics Stadium. It was the first time this competition has taken place since 2019 and so the first experience many of our team had at the event.
The day started with the girls track and boys field events, with a change over at lunch to boys track and girls field.
The girls had a great start to the day with top 2 positions in each Year group for the hurdles, 100m and 800m, with standout performances and wins notably in the Year 7 100m, 200m, Year 8 hurdles, Year 9 800m, 200m and 1500m and Year 10 300m.
They then continued this success into the field events with wins in the Year 7, 8 and 9 high jump, Year 7 and 9 discus, Year 7, 8 and 9 javelin, Year 7 shot put and Year 8 long jump.
To seal the brilliant performances from the girls teams and finish on a high note, each Year group won their 4 x 100m relay.
The boys started their day with some outstanding field performances. They had wins in Year 8 and 9 discus and top 3 positions in Year 7 and 10 discus, a win in Year 7 triple jump, Year 8 javelin and Year 10 shot put.
The boys dug deep against some really tough opponents on the track, securing top 2 positions in the Year 7 100m, Year 8 hurdles, 800m, 1500m and 200m and Year 9 200m.
Overall results were: Year 7 boys 3rd, Year 8 boys 2nd, Year 9 boys 4th, Year 10 boys 3rd, Year 7 girls 1st, Year 8 girls 1st, Year 9 girls 1st, Year 10 girls 2nd.
The girls became overall Salesian Champions - an excellent achievement!
Many students came away the Salesian Champion for their event or with a personal best, it was a pleasure to see them perform to such a high standard and witness the great attitudes they had towards their events and their fellow competitors.
Well done to everyone who was part of the team!
Take a look at some photos of the day...